Hi Tim,
Some photos, as requested: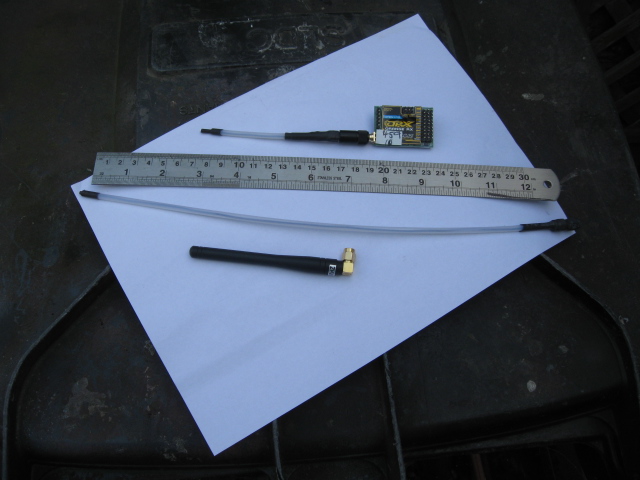 From the top this shows the Orange RX with the shortest antennae I have made (Untested in a sub.)
The next one down is the 328mm whip (Tested in the videos.)
This was used with the bought in TX antennae shown. This was bought from:
http://www.flytron.com/15-antennas-filters
3dBi 433Mhz UHF Antenna (right angle)
This is labelled as 433Mhz and so is probably less than ideal for 458 but it seems the only one easily available. (I wanted to have a short TX aerial for cosmetic, ease of use reasons!)
  I also bought a couple of these adaptors from Flytron because they can be used to make your own aerials by soldering a wire on. 
  SMA Male to SMA Male Adapter
Finally here are the innards of the aerial which comes with the Orange equipment. It is OK really and you can see that it has a loading coil. I suppose the thing against these antennae is that they are designed to minimize length - which is not THAT important for the RX aerial on a sub.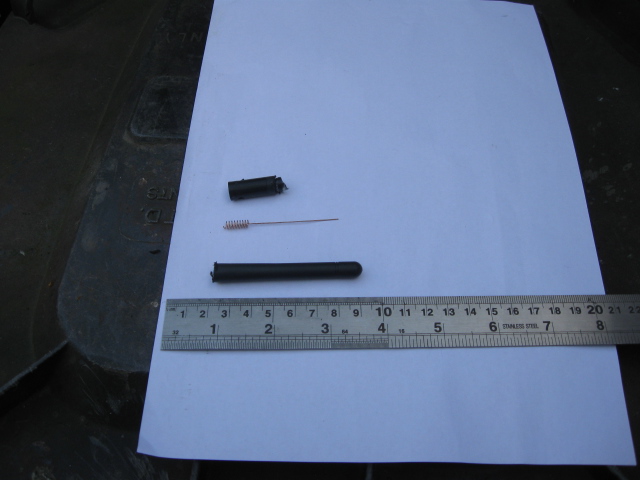 Nigel suggests that with the telemetry use, it is just a question of trying a long antennae and just snipping bits off until you get the best results! And that is about right.
The only other variable seems to be the aerial orientation. A vertical aerial could be used but the paper by Butler seems to suggest that a horizontal aerial is best because the radio signal is refracted at the surface anyway. Also the use of a ground plane seems to get a lot of discussion with the flying fraternity. I don't know if it is relevant in subs.
(BTW sorry I started a new thread on antennae because the whole topic is perhaps best dealt with in one place. I will put the link in for completeness:
https://www.theassociationofmodelsubmariners.com/t1529-aerials-antennae-for-458-459mhz#9388
)
David