You may not know this, but I've bought AndyN's MMB Los Angeles class boat, pic below.
After my previous Dragonfish at 1/144th scale, I've wanted to build a bigger one, so this is my opportunity to do so. These Cold War Concept boats fascinate me for some reason...maybe it's the totally outlandish designs, I don't know, but I've been interested in them for a lot of years now.
The picture below is the only one I've been able to locate of the CONFORM Concept boats, so this is all I have to work from.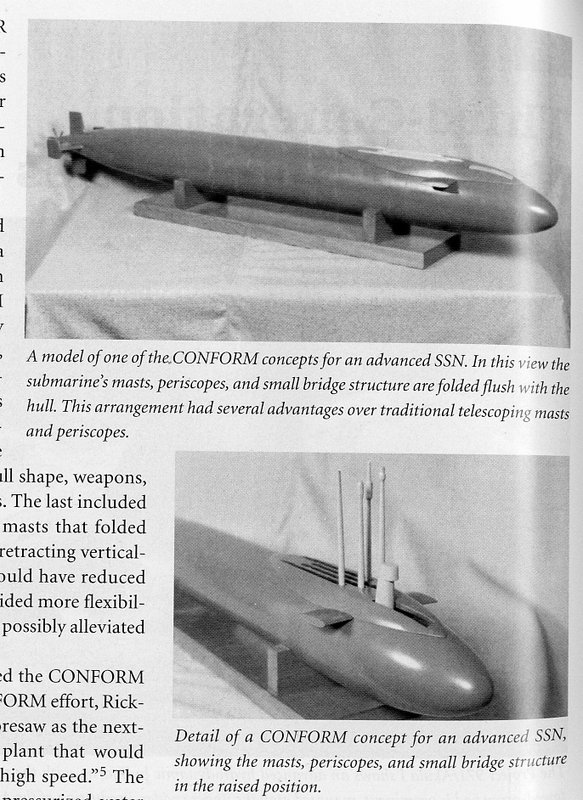 The Dragonfish was never actually built, it never left the drawing board, but the design went on to become the Los Angeles class of boats. The Dragonfish was designed to have a flush deck without a sail, the small bridge and the periscopes, masts, etc, would be folded flat hydraulically into the tiny raised deck to achieve minimum radar outline and maximum speed.
And so...it begins.
All the new bridge area will be built onto a spare deck which I have, that way any errors I make during the build won't be viewable on the actual model.
The photos below show the new raised deck section under construction...cut from an old fibreglass mini sub deck, they will be epoxied together and then cut down in height, filed/sanded to their final shape, the cut outs for the folding bridge and 'scopes and masts will be cut into the top later on.