After trying fellow member John Wrennall's dynamic diving Graupner Shark at Norwich this summer and finding it great fun and quite challenging to 'drive' accurately, I decided to see if I could scratch-build something as a relief from the lengthy build of my perhaps over complicated T class Thrasher. After a quick rummage through my boxes of model bits and pieces and material
stock piles
I found that I had all that I would need. After bit of relaxed thought and doodling the best thing to do next was to start cutting and glueing stuff together, and after a few days I had a hull , and a couple more to make up some whirly bits at one end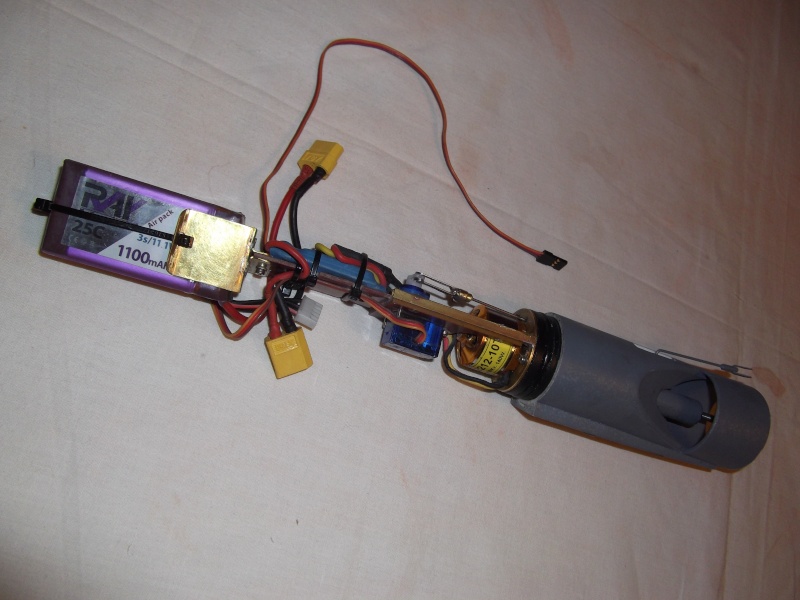 and wobbly bits at t'other,
All a bit of a tight squeeze getting this lot into some scrap ABS 11/2" wastepipe, but I had model submarine. Well it looked like a submarine, and after comparing my doodled calculations and weighing the model I knew that if would just about float which was just right, so time to visit the test tank/ garden pond. Hmm! It does a nice impression of a dead fish was my first response as it floated with the starboard dive plane waving at the sky, a behaviour soon solved with the contents of a shotgun cartridge -  well lead shot anyway!  So here it is-- HM(S) Pipefish!
For folk interested, the Rx is Corona 40meg 4 ch and the aerial wrapped around paper tube still gives good range,the smallest motor I had is a 2208 outrunner, 1100ma,non reversing 3s Lipo, 20a ESC, cheapo 9 gm servos. Careful throttle management is required to avoid an interesting display of aquabatic  axial rolls!!
       Trevor