Well, I guess by now most of you will know that I've given up on the LA...I worked out(with the help of Nigel)that I'd never get it out of the door and down the stairs when it's completed, so it's now languishing on my bookcase(anyone want to buy a part built LA?)
Having given the next project some serious thought(over a few cups of Yorkshire's finest)I've decided that my new boat will be a Models By Design 'Biber' midget sub. I only know of three of these boats...Bernie Wood had one, Paul Cook has one and a friend of Andrew Gray also has one, so it's going to be an unusual sight at shows.
So, I called Andy at MBD and ordered the kit.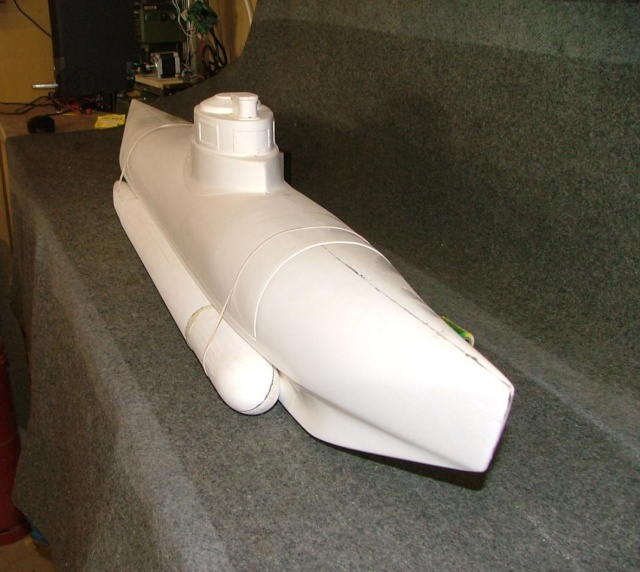 I also ordered an extra set of torpedo ends...the spare set will be going to Alfie Blake who is going to turn them into operational torpedoes, based on the ones he built for Dave Wright's Seehund midget sub, only mine won't be radio controlled, just straight running ones with a nose mounted cut off switch.
After a chat with Dave at Action Electronics, he came up with shopping list for me...an esc, power distribution board, ballast pump controller, motor, etc...so that was next thing to order. I also asked Dave for a wiring diagram, which I've reproduced below with Dave's permission..
The prop shaft is being custom made for me by my tame engineer, it consists of a stainless steel outer tube, three internal bearings(one at either end and one centrally mounted)with O rings either side, and a 4mm stainless steel shaft. The tube will also have an external oiling tube fitted with a sprung cap to keep water out. My man is also making a watertight stuffing box and stub shaft, again all from stainless steel.
The scale 50mm 3 blade brass prop is on order from Raboesch, and with a bit of luck everything should be here by the weekend, or just after.
The supplier links are below, should anybody need them...
Models By Design : http://www.modelsbydesign.co.uk
Action Electronics : http://www.action-electronics.co.uk
Raboesch Propellors : http://www.raboesch.com
Last edited by Richard(Admin) on Thu Mar 31, 2011 8:51 am; edited 1 time in total