Who is online?
In total there is 0 user online :: 0 Registered, 0 Hidden and 0 Guests :: 1 Bot
None
Most users ever online was 180 on Tue Nov 05, 2019 6:03 am
Statistics
Our users have posted a total of 12263 messages in 1964 subjects
We have 986 registered users
The newest registered user is gruby220
ExpressLRS - 868/915 Mhz equipment

david f

AMS Treasurer






Posts

: 2359


Join date

: 2010-11-10


Age

: 73


Location

: Cumbria

Hi Tim,

New topic, as requested.

Hope the title is OK.

David

tsenecal

Guest






Posts

: 282


Join date

: 2015-04-01

ExpressLRS is the newest of the current commercial crop of 868/915mhz equipment.

the first release was sent out in january of 2021, so it is only a couple years old, but in those 2.5 years, it has now had its third major software update.

whether it was originally intended to reallocate Frsky hardware (which i feel is not the first use) or if it was basically a ground up rewrite of OpenLRS to support 2 things, it currently offers more features than any of the others. Depending on how you use it.

It offers "OTA" updates for both the TX modules and receivers, in that "true" ExpressLRS hardware (not repurposed frsky hardware) all offers wifi connectivity. you can literally boot the hardware in "wifi" mode, connect to it as an access point and see what version of the firmware it is, change some settings, and update the firmware by uploading .bin files.

The main purpose of ExpressLRS was to have a very low latency, very fast refresh performance LORA based r/c link. using the 2.4ghz version, refresh rates as high as 1000 a second are possible, and latency as low as 6.5ms.

the designers "borrowed" the CRSF protocol from TBS Crossfire. Since it is a high speed serial connection, that helps in reducing the latency. There is no other protocol for communication between transmitter and module. the same serial based CRSF protocol is used to communicate with the receiver and either a flight controller or a PWM adapter.

ExpressLRS therefore requires a transmitter with both a high speed serial port, and a firmware that is either OpenTX/EdgeTX, or something similar (Ethos or ErSkyTX) the module currently does not support PPM, but a few people that fly airplanes feel it would benefit the community if that option were provided.

the later two versions (v2 and v3) have offered "advanced" features to support "wing" devices, which benefits r/c submarine use. v2 supports up to 12 channels, with 4 being full proportional, and 1 mandatory on/off channel, and the remaining 7 can be configured with varying settings from 2 position on/off to 7 bit proportional (128 positions) which is enough for dive planes, especially if you have a pitch controller.

v3 of the protocol supports up to 16 channels to the receiver, but the data is multiplexed, and that mode is only available at certain refresh rates.

ExpressLRS is the only protocol that is open source, and therefore hardware is made by several 3rd party manufacturers. I have bought equipment from 5 different manufacturers, and it all works together as long as the hardware is using the same major protocol version.

for servo output, there is one manufacturer of PWM adapters that makes a series of boards that allow anywhere from 6 to 12 servos to be used.

for those that are more DIY oriented, a stm32 or esp32 or rp2040 board has the horsepower to decode the CRSF protocol without any additional hardware, and a simple program can be written to convert output to pwm.


so, the ExpressLRS 868/915mhz equipment is the least expensive, and is available from multiple sources.

it has the highest refresh rate, and the lowest latency of the three. features that really aren't that important to subs.

it also has the highest hardware requirements, needing newer computer radios with firmware that can "speak" the crsf protocol.

like TBS crossfire, it has dynamic power allocation, so it will only use the power it needs to keep the signal good. you can set the max power level.

due to the opensource nature, different manufacturers offer different hardware, but the majority use the same chipset, which maxes out at 250mw, and some limit that to 100mw. Different country regulations may also limit max output power.

ExpressLRS is also the only protocol that offers both 2.4ghz and 900mhz equipment, so you definitely need to pay attention when purchasing, making sure you do not buy 2.4ghz equipment.

tsenecal

Guest






Posts

: 282


Join date

: 2015-04-01

Both TBS and ExpressLRS have the same attitude about telemetry.


There is telemetry sent back by the receiver (link), and telemetry sent back by the Flight Controller (Data)

link telemetry is stuff like signal strength and quality of signal

data telemetry is stuff like gps and compass and battery voltage.

the only data telemetry a receiver will return is rxbatt voltage. several of the matek crsf->pwm servo adapters will include both batt voltage and batt current with little to no extra effort.

the telemetry that the FC returns is entirely dependent on the hardware and firmware available on the FC.

ExpressLRS is unique in that you can configure how often telemetry packets are sent to the transmitter.

This is expressed as a fraction, and is basically how you define the rate. rates ranging from 1:2 to 1:128 are the choices, meaning for every 128 packets sent from the transmitter, 1 is sent back to the transmitter. there is a giant chart on the expresslrs wiki that gives basic time equivalents for these ratios at the different base frame rates.



tsenecal

Guest






Posts

: 282


Join date

: 2015-04-01

One of the biggest advantages that ExpressLRS has over the other two 900mhz systems available, is that it is Open Source, and due to that, available from multiple different manufacturers.

a short list of manufacturers:

BetaFPV
Foxeer
HappyModel
HGLRC
IFlight
Jumper


of the manufacturers listed, i have purchased and tested equipement from all but IFlight.

One important thing to note.  Almost all the receivers made for ExpressLRS are meant to be used with drones, so they will not drive a servo directly (one exception to that rule).  this means that there will be soldering involved to make something we can use, by either adding the receiver to a PWM (servo) adapter, or a flight controller.  Based on other topics on this website, i don't see that as a problem.

I have JR style and Nano/Lite style transmitter modules from BetaFPV
I have JR style transmitter modules from HappyModel

I have classic nano style receivers that all look basically identical from BetaFPV, Foxeer, and HGLRC.  There size and layout are identical, i am assuming they are designed from a generic pcb layout.  They also appear to work identically in the limited testing i have been able to do on these.

I have two different receivers from HappyModel, a "classic" model similar to the BetaFPV/Foxeer/HGLRC, but a different form factor.  it is about half the physical size of those 3.  I don't like it as much because the pinouts are not labelled, which is a pain when soldering these receivers to their servo output components.

I also purchased as many as 6 of HappyModel's PWM servo receivers, which were a receiver made specifically for "wing" style systems that used servos.  this receiver has 6 servo outputs, and a more elaborate wifi configuration page that allows for setting failsafe values.  I originally liked these a lot, due to them being an "all-in-one" setup, no need to get a PWM adapter or wing style flight controller for servos.   The issue is that over time, these receivers have started to fail.   three of them have been retired, having hardware failures that put them into bootloader mode.   two were never put into service, when originally wired up and tested, they had issues running servos on all six outputs.

current setup is the BetaFPV ELRS Nano 900MHz receiver with a matek PWM adapter.  generally the 6 servo pwm adapter, but i have tested an 8 servo and a 10 servo adapter.   The only issue i have with this setup is the limited configurability of the matek pwm adapters.

as geofrancis has pointed out in other posts in other threads, there are very good advantages to use a flight controller with these receivers.
Last edited by tsenecal on Tue Aug 29, 2023 8:29 pm; edited 1 time in total

geofrancis






Posts

: 240


Join date

: 2021-09-24

this might be usefull for you, its a crsf pwm decoder that runs on a stm31f1
https://github.com/CapnBry/CRServoF

tsenecal

Guest






Posts

: 282


Join date

: 2015-04-01

geofrancis wrote:this might be usefull for you, its a crsf pwm decoder that runs on a stm31f1
https://github.com/CapnBry/CRServoF
yeah, i have seen that, and am interested, it would be interesting to make one just to see how well it works, and how configurable it can be made to be.
maybe see if i can find a physically smaller board than a blue pill.
geofrancis likes this post

geofrancis






Posts

: 240


Join date

: 2021-09-24

I had a look through the source code for that adapter, from what I can tell the only thing tying it to the stm32 is the servo output. if you wanted to run it on another chip like esp it would just need the servo output library changed.

tsenecal

Guest






Posts

: 282


Join date

: 2015-04-01

Okay, so i added another piece of ExpressLRS equipment to my stable.
A Jumper T20 transmitter.
it is a compact size stick style radio with one feature that makes it different from all my other radios. It has an ExpressLRS 915mhz rf deck built into it.
out of the box, it came with the Australian frequency firmware, version 2.5.1, so i immediately updated that to version 3.3.0 of the USA frequency firmware. version 3.3.0 is the only official version available for this hardware, so that basically means i get to upgrade all my other rf modules and receivers to match.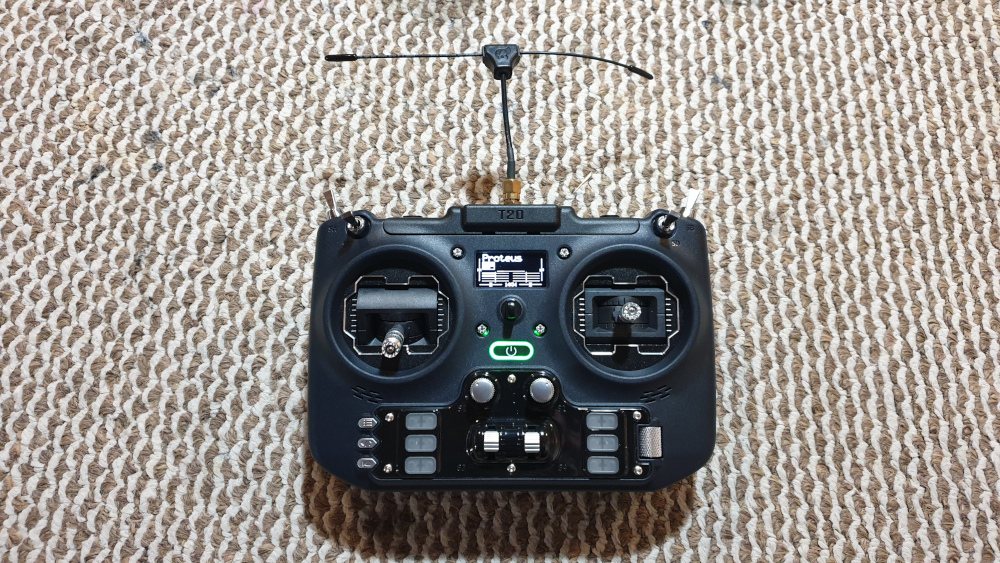 david f, geofrancis and cat like this post

tsenecal

Guest






Posts

: 282


Join date

: 2015-04-01

Yet another purchase in the pipeline:

Betafpv has basically stuck their diversity receiver into a "Flyer" style form factor.

https://betafpv.com/collections/expresslrs-series-accessories/products/superp-14ch-diversity-receiver

this will drive up to 10 servos without any modification, and with a tiny amount of time spent wiring up two harnesses, up to 14 servos.

I have one on order for testing. It should arrive sometime in the next two weeks. i wil post more when i get time to play with it.