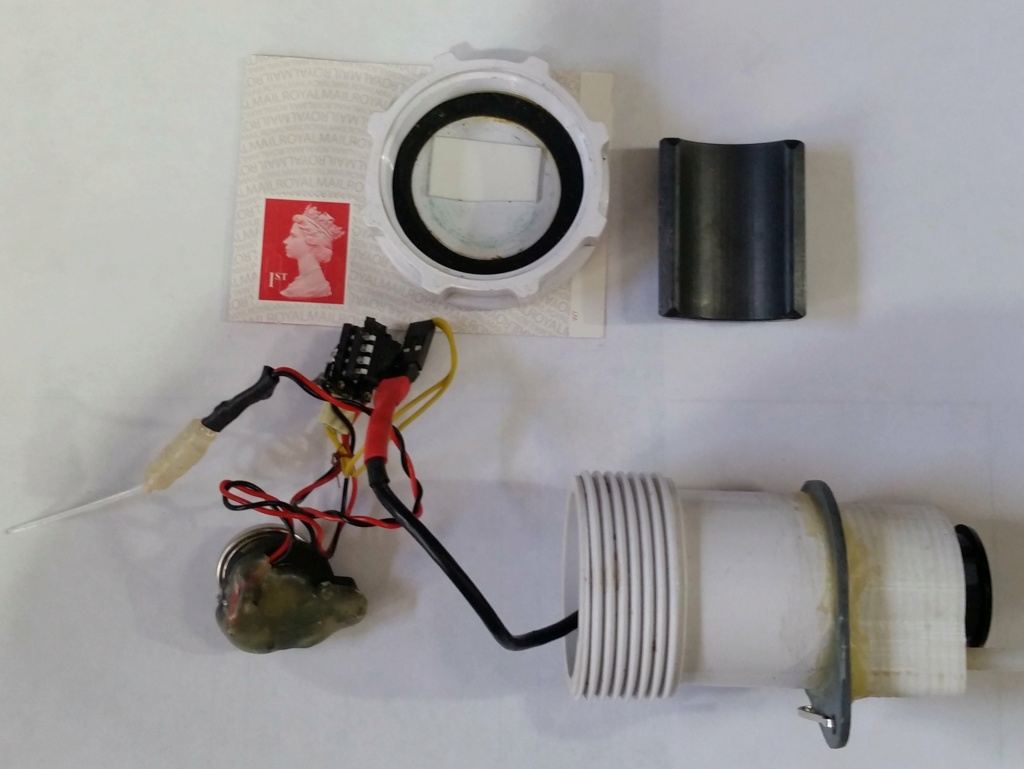 This is a simpler design which uses an external watch crystal to provide an accurate 1 second ultrasonic pulse. Battery life is at least 3 days.
The waterproof case comes from your local B & Q (Other stores are available!)
The ultrasonic transducer cable feeds through the end cap (sealed with silicone rubber tubing) and is supported by the white 3D printed part.
The LED and a piece of fibre optic can feed the light output through a pipe outlet so that you can see it more easily from outside the case.
I have done some in-water testing on my Charlie class sub. The Pinger gives a tight "torch beam" signal which helps to locate your sunk model sub. Range is at least 4m.
The Pinger was mounted externally at the stern of the sub.
The receiver is  the "simple bat detector" using the same Banggood ultrasonic transducer as the Pinger.
http://batdetector.freevar.com/
The design uses a 16f18313 pic and an external 32.768 KHz clock crystal to give an accurate 1 second pulse.
A normally closed reed switch is "hot-melted" to the back of the battery holder and can be switched off using the magnet.
Software is available here (more information forms comments in the main.c file):
https://github.com/rdforrest/Pinger-model-submarine
This shows the back of the chip socket. The clock crystal is on the right. Two 12pF ceramic capacitors for the crystal. One 0.1 uF decoupling capacitor across the power input. The components looking like resistors are small series inductors which improve the range of the ultrasonic transducer.