David (dgp) asked this question and I realise that this has not been discussed much on the Forum so I will see what contributions we get on this thread.
The pressure tank system is good, in my opinion, but a weakness is operating at pressures of up to 300kPa so you need some sort of pressure vessel.
To illustrate the scale of the problem, I see that Sheerline now use rather nice stainless steel tanks. (I understand from Nigel that they did have problems with their earlier plastic tanks??)
So how do we go about designing and building these tanks?
It is almost bound to be a cylindrical tank. For stability reasons to avoid the "sloshing" problem when half full keep the tank length to a minimum. Also to avoid the "sloshing" problem consider putting baffles in the tank. (Cut plastic disks to size and position them vertically in the tank spaced a cm or so apart. Don't worry about holes etc. Unless you are an expert disk cutter they will leak enough anyway! (Don't glue them.)
If you are finding the idea of a pressure tank rather daunting a quick search of the internet shows that ordinary plastic (pvc) pipe of about 3 to 4 inches in diameter has a working pressure of about 1000 kPa. Even a humble plastic soft drink bottle has a working pressure of about 300 kPa so you could use this for pump trials etc.
With the tanks I made I decided to adopt a belt and braces approach by cladding the pvc pipe with about a 1/4 inch of glass fibre. I haven't had one split or leak yet!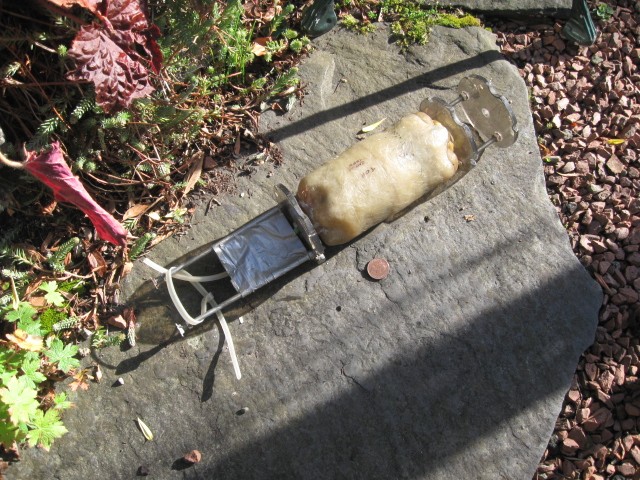 The photo shows an early tank which I dragged out of the shed to photograph this morning (Nice morning up here!) This one used the bases of 2 plastic soft drink bottles as the former for the fibreglass. (I should explain that I am using not using the pressure tank system much nowadays because I have moved onto piston tanks.)