This has been a project running over 2 or 3 years, with a coronavirus pandemic intervening which prevented trials. (Hardly very important compared with the tragedy of a global  pandemic so I'm not complaining!)
Robert Fulton was born in Pennsylvania and can only be described as a brilliant polymath - painter, canal builder, inventor of the naval mine and steam boat pioneer. In between all that, he managed to build the Nautilus I submarine for Napoleon and designed this Nautilus II for the British Admiralty. He is probably most famous for helping open up the US with steam boats and he is commemorated there (by amongst other things) lending his name to Fulton, Missouri.
Sadly or gladly, depending on your point of view, Napoleon's navy was defeated at Trafalgar so the Royal Navy's interest in submarine  waned and Fulton's design was never built.  So this was an exercise in historical re-enactment.
This shows a cross section drawing by Fulton of 1805. (He was an accomplished artist.) Note the conning tower and WTC. Also a very early propeller.(hand cranked - the crew would have earned my respect!)
This shows the sail plan and gives a hint on how she would have been used. An early stealth ship with the ability to submerge and hide during the day on the French coastline.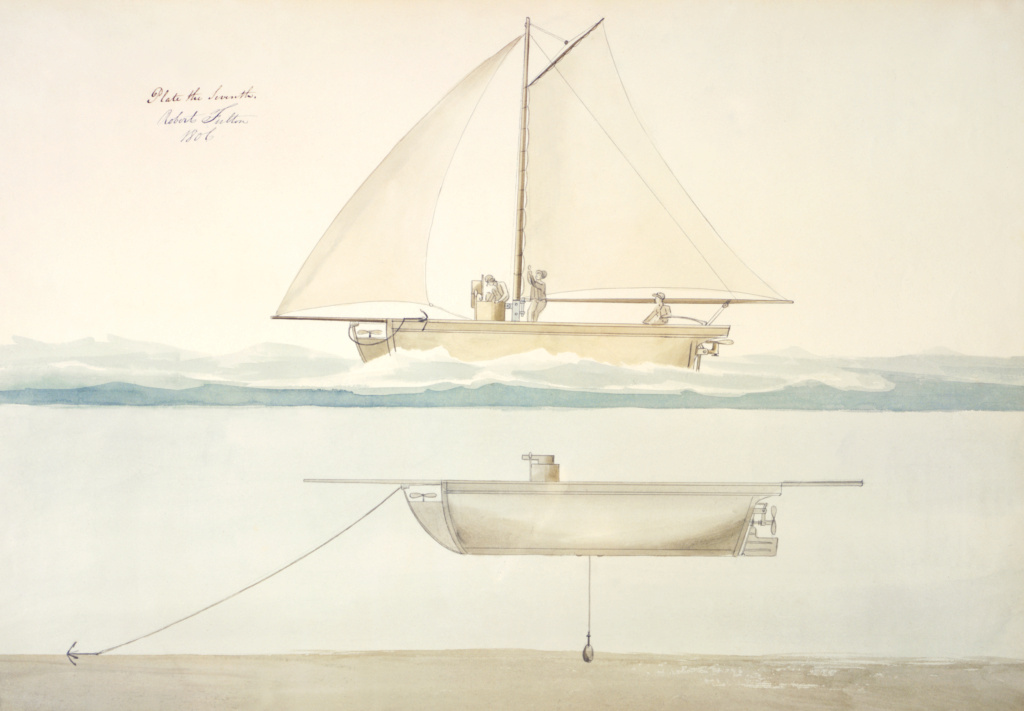 The key reference for me was this one "Robert Fulton and the Submarine." by Wm. Barclay Parsons. Publ. by AMS (Nothing too do with us unfortunately!) Press, New York in a 1967 reprint.  the original was published in 1922 by Columbia Press. And thank you eBay for my copy.
This book is very much based on Fulton's original manuscript which was kept hidden for "political reasons ............and only recently turned up in England" - according to Barclay Parsons writing in 1922. I believe him, but this method has often been used to introduce forgeries e.g "The Hitler Diaries."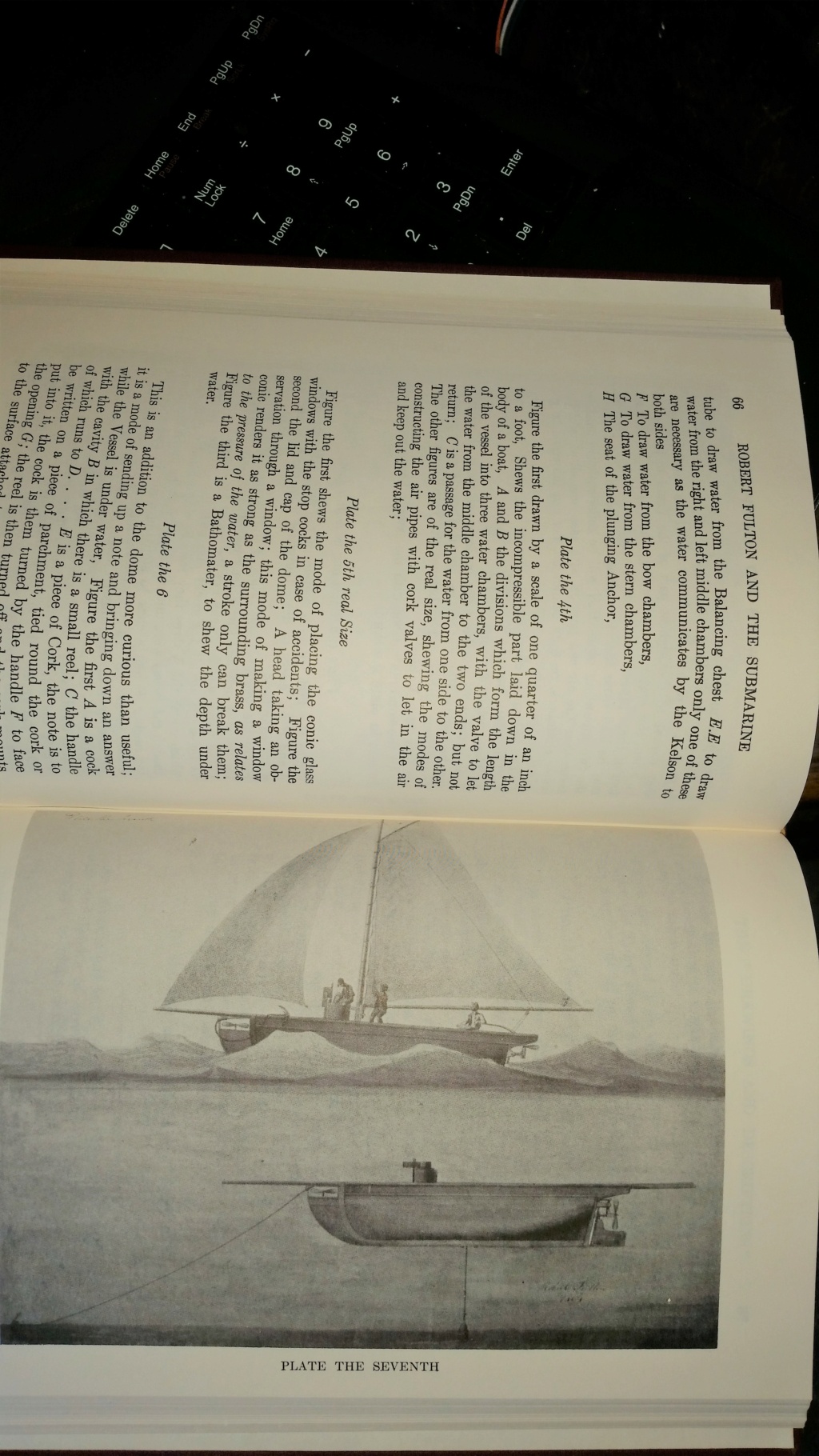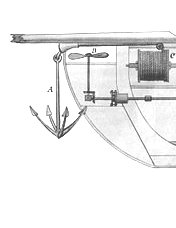 The only cross section and this shows how he intended to arrange his ballast tanks and his "submarine bombs."
One of the interesting and challenging things about this project was that it combines a lot of unfamiliar territory for submarine modelers, like sails and rigging!
Asking the very helpful "Yachties" in my club the Furness Model Boat Club suggested that I needed to look at a fishing boat with a sloop sailing rig.
One example of this was this a local (for me)  fishing boat a "Manx Nobby" (Don't laugh) and this example is the "Gladys" in the Isle of Man museum, Douglas.
A rather nice model of a Manx Nobby downloaded from the web (Sorry I don't have the reference now.)
I didn't want to build a hull - sailing boat hulls are a specialist item  and I found this grp hull nicely made and very strong from:
https://www.sarikhobbies.com/product/manx-nobby-by-david-alderton-hull/
During the initial design and trials, I had one eye on equipment I already had and the other eye on Fulton's original design (cross- eyed!). The tricky thing was to ensure that it would submerge and was stable during the flooding process. I used lengths of insulating foam to simulate ballast tanks. The WTC was my standard one used for a number of my submarines but I changed the end cap to incorporate two winches. One for the main sail and jib sheets and one for mast raising. These are the 2 white (3D printed cylinders). A standard lead acid battery at the bow provides all the power. The WTC already has a  proportionally controlled piston tank with about half a litre capacity.
Existing sail winches are not very suitable for submarines (the diameter is too big) so I constructed winches using my favourite  mfa geared motors (https://www.mfacomodrills.com/). I had to develop software for the various control options (on/off, proportional, failsafe no failsafe etc.) The software is based on my proportional piston control software and it is all detailed over here:
https://github.com/rdforrest/submarine-proportional-pistontank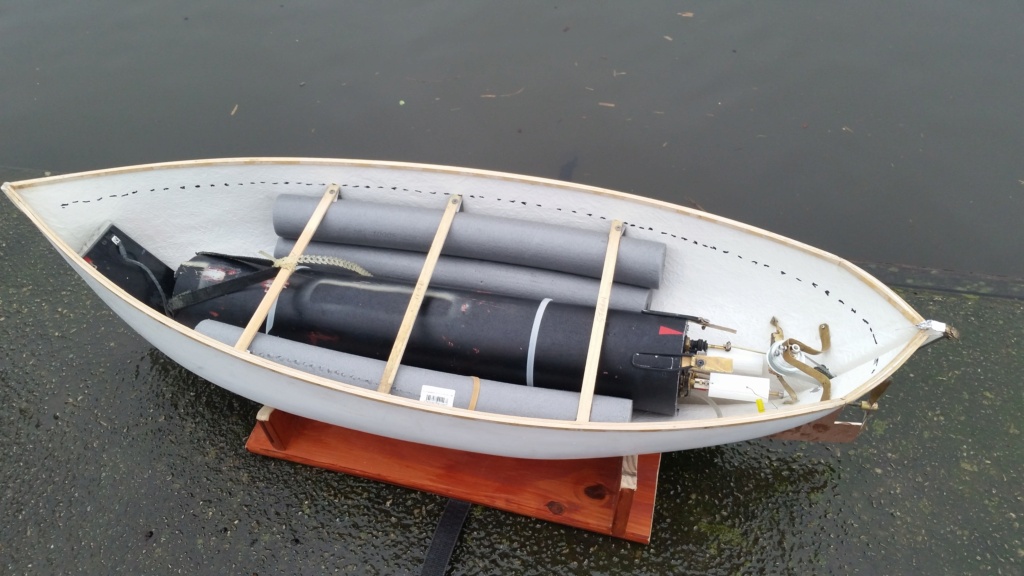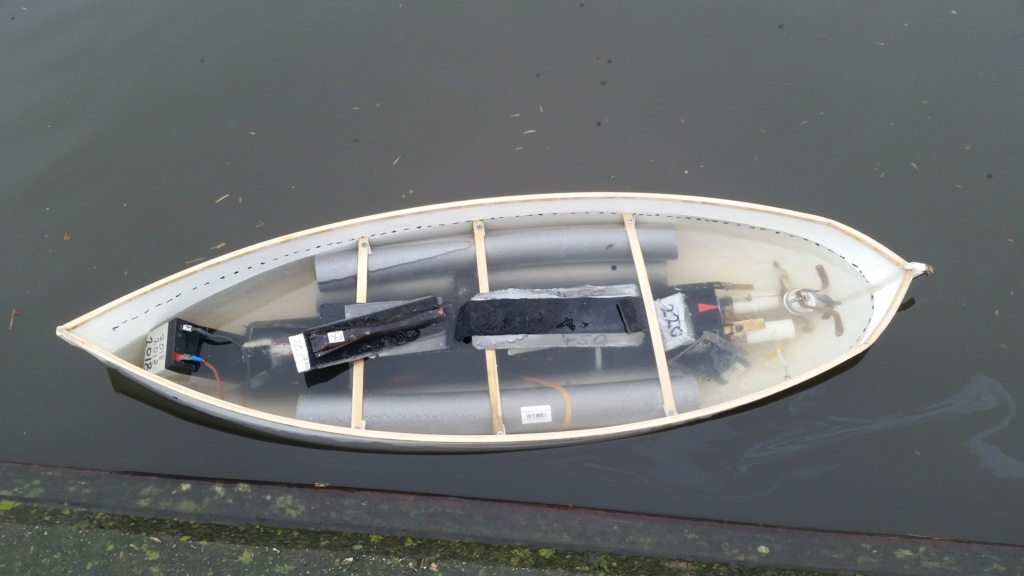 This shows 2 of the foam tubes substituted by the ballast bags. These are 2 litre capacity urine bags pumped up and deflated by a peristaltic pump again controlled by my software. A pump cycle takes several minutes but the full scale boat would have been hand pumped. (The bags were kindly provided by Gareth a club members whose neighbour was very ill and sadly didn't make it.)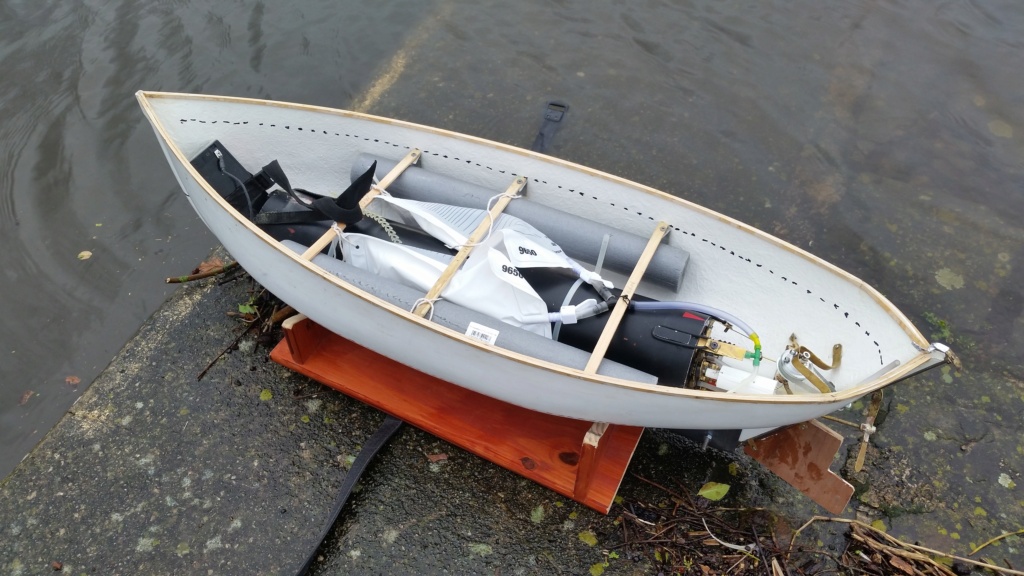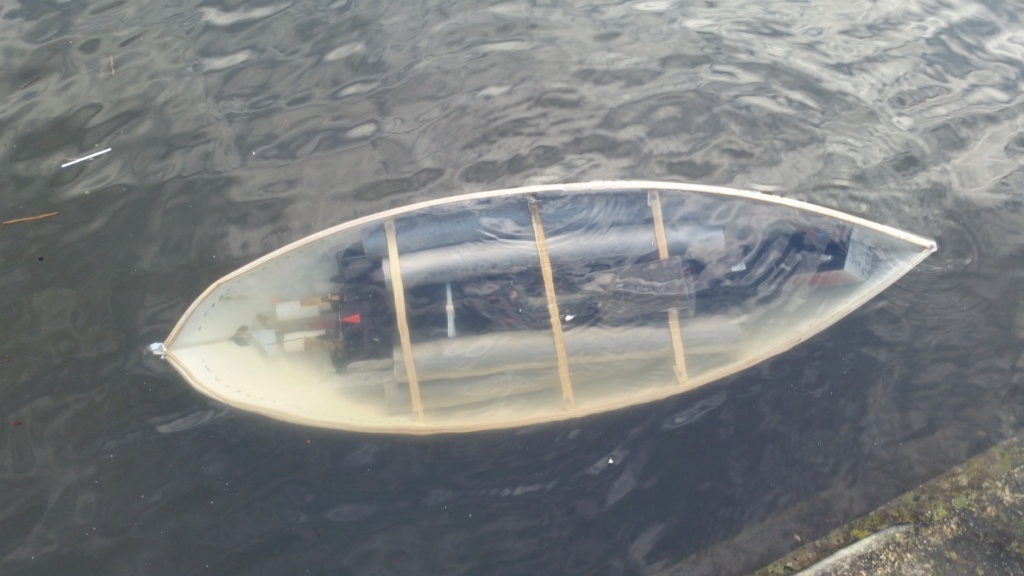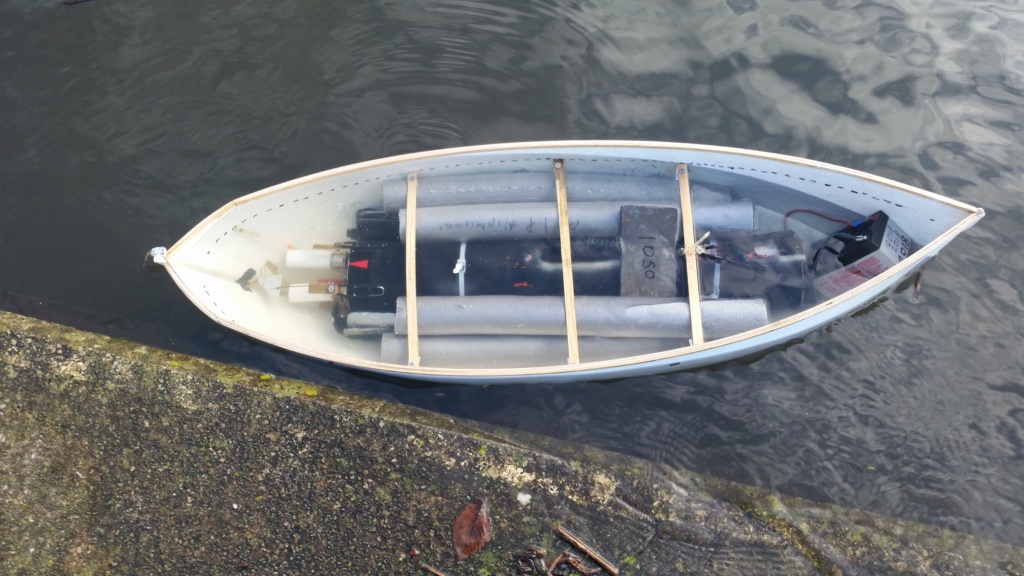 These trials showed that the stability of the hull was OK and would not be toppled by the sails.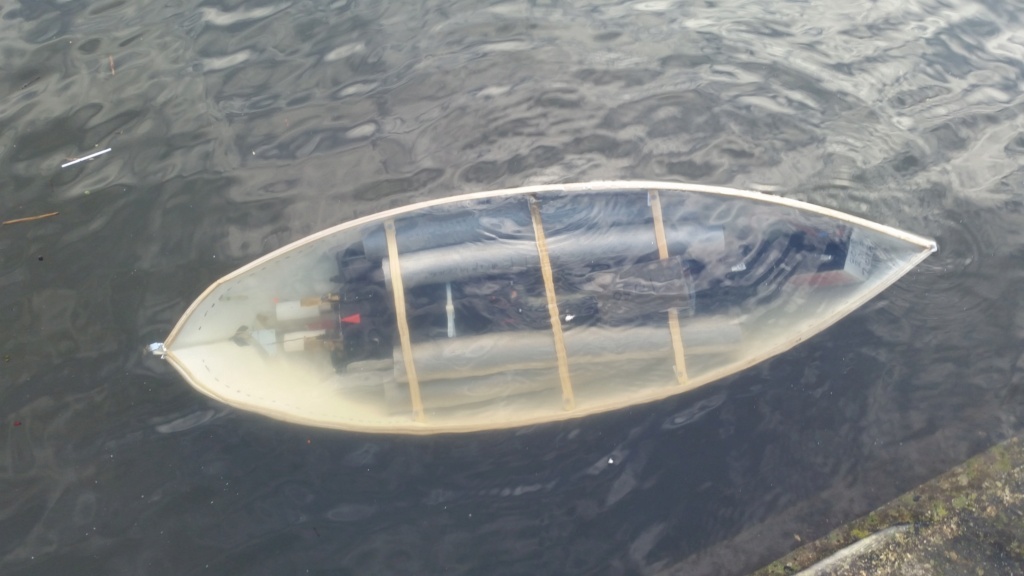 The rudder control wasn't easy because a small servo movement needed to give a considerable rudder movement. A toothed drive belt provided a fairly unobtrusive method of doing this. The large diameter propeller required a lot of trials to get the speed right. (Thank you mfa and the gearboxes!)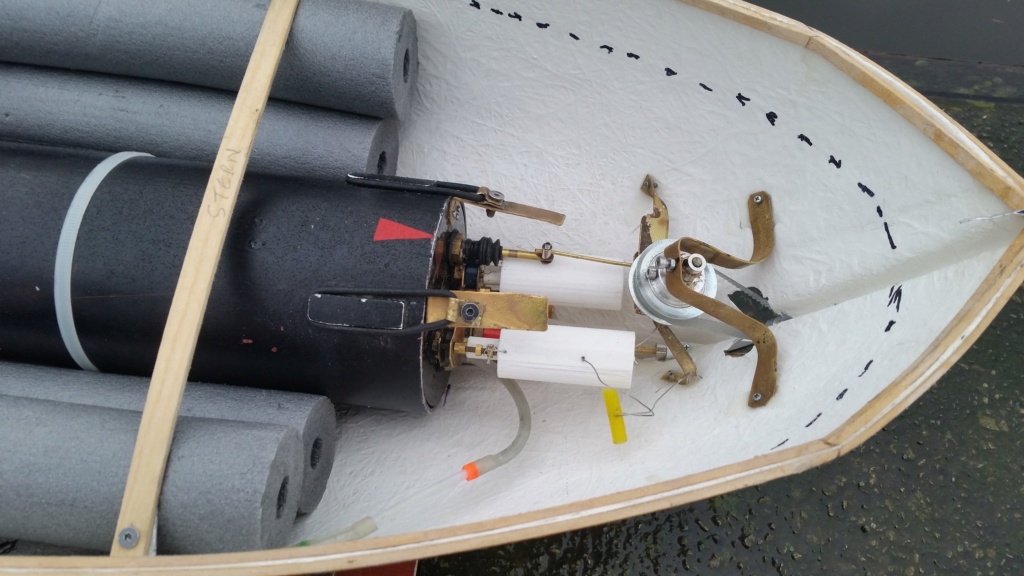 The next thing was to tackle another skill - sail making! The sails are made from old cotton sheets - nothing too advanced. Old photos of sailing trawlers show that they didn't use anything fancy either.
This photo shows David J suffering everything that a British February can provide. But we didn't complain because this was 2020 and we were very soon forced to go indoors - BY LAW!
And all trials ceased for close on a year.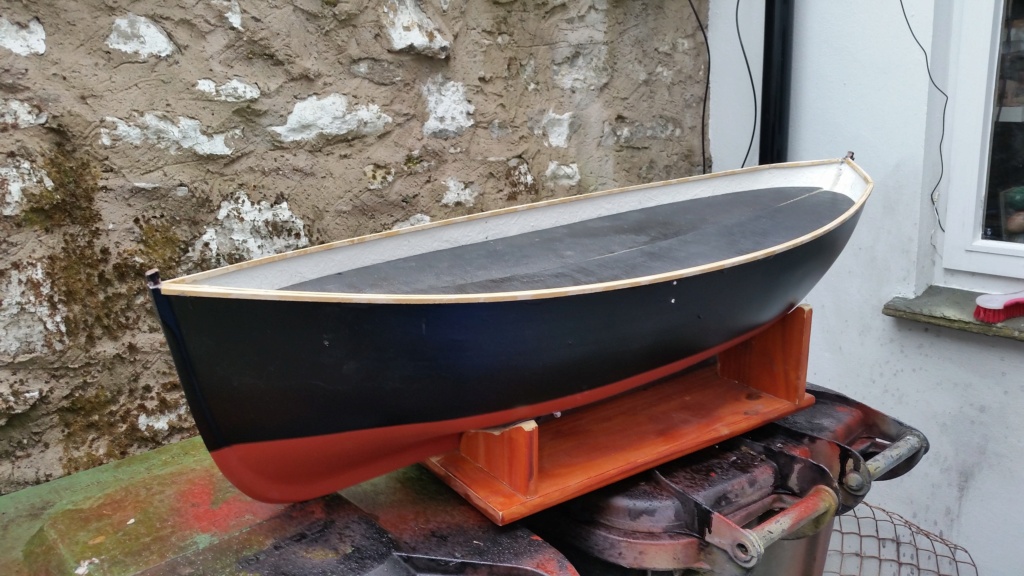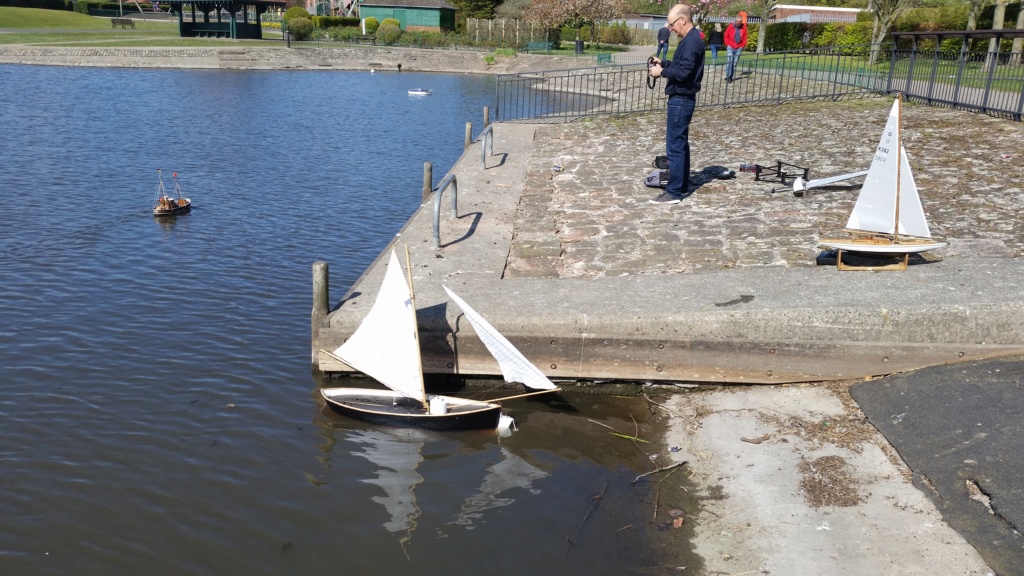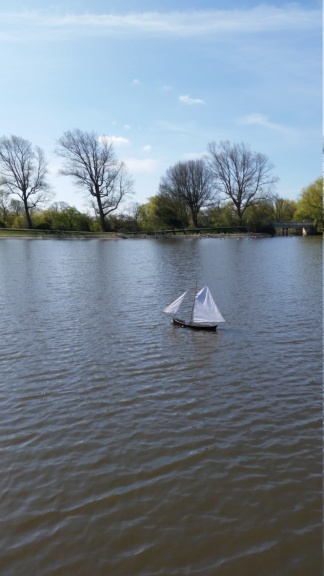 She actually sails rather well - as much as my limited sailing skills allow.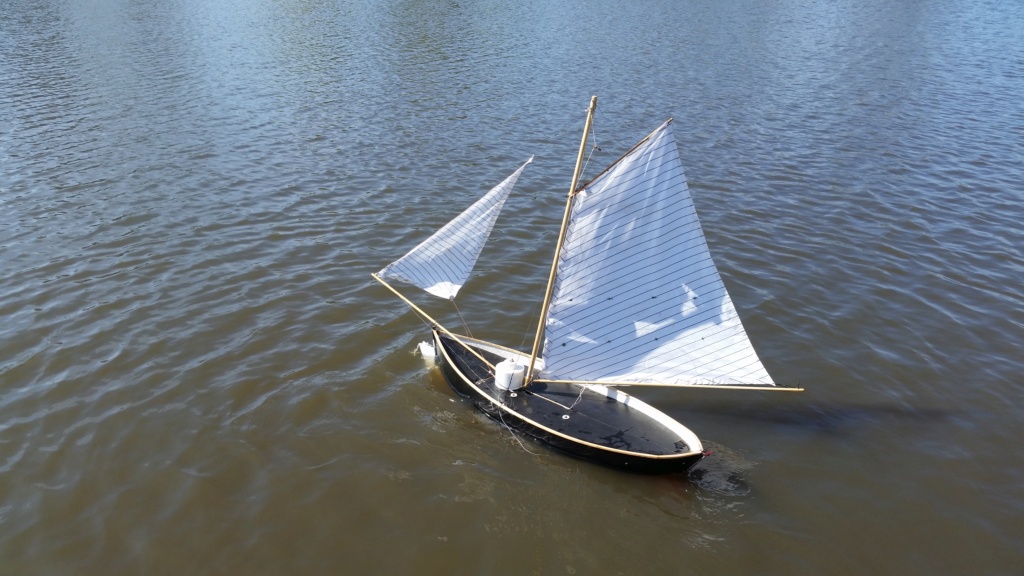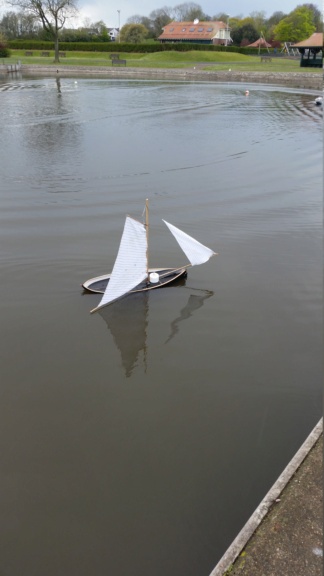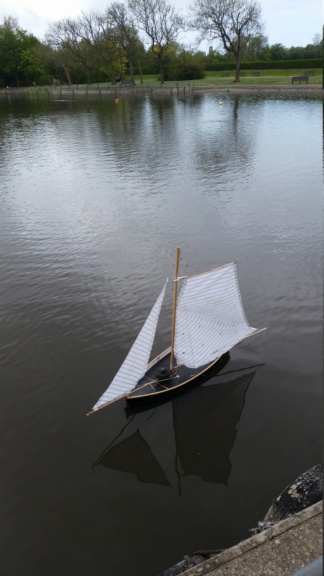 And she submerges: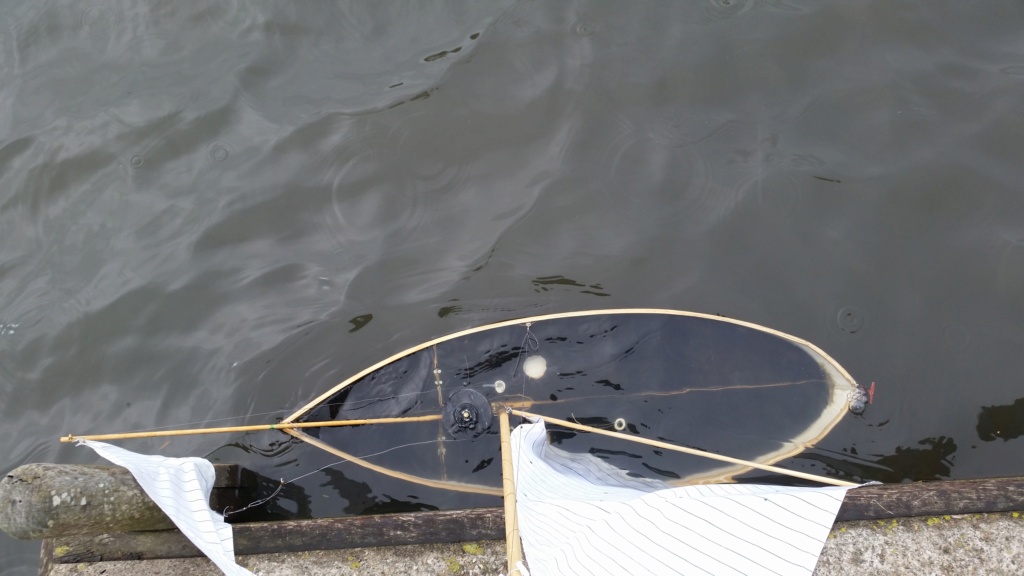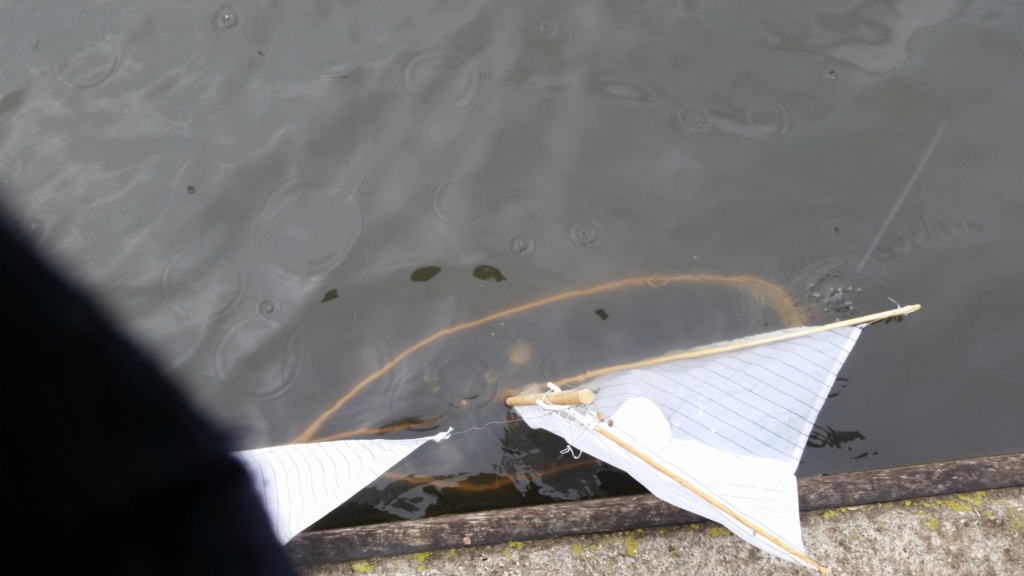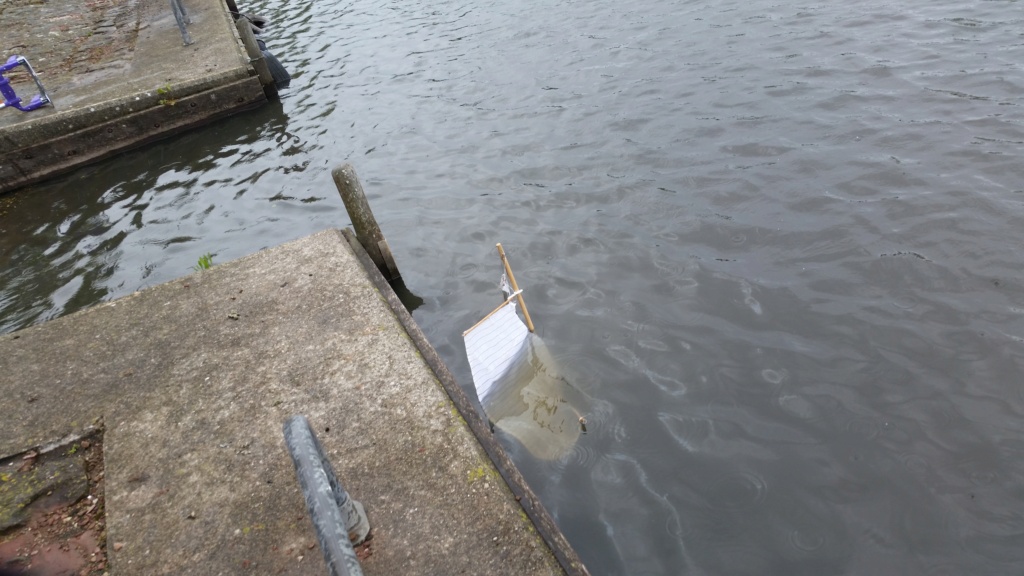 Still more work to be done:
- Need to be able to lower the mast without a miniature crew.
- More work needed on the set of the sails.
- Some of the sailings were conducted using the prototype LoRa based radio control. So the model combined low and very high tech. I think Fulton would have approved.
So more to do but already I'm very impressed by Robert Fulton. His design translates through to a model fairly easily. I think his full size design would have worked as long as his crew could stand it. But Napoleonic sailors WERE rather tough.
Some videos:
https://youtu.be/W3G9HyK0R24
https://youtu.be/xhQeTjqo86s
https://youtu.be/Sq77PSENf4U
https://youtu.be/6WwMSkjUc7Y
https://youtu.be/PSHBwicO9ic
Last edited by david f on Mon Sep 11, 2023 8:20 am; edited 1 time in total