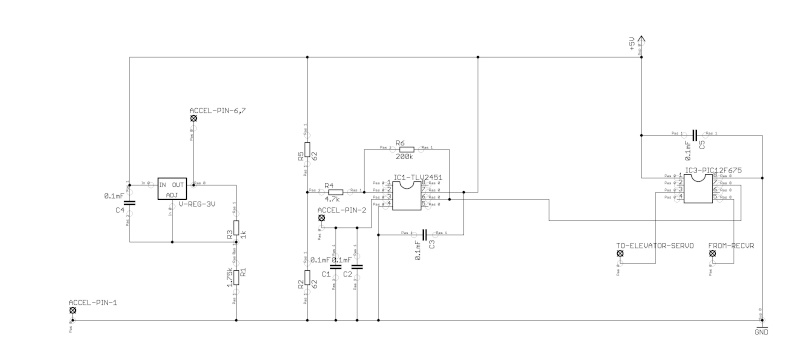 I sent this for discussion with fellow AMS members Alf and Paul last summer to see what they might come up with. Paul has just contacted me with his encouraging findings. He has used the accelerometer chip in combination with his design oiginally published in the mag. He tackled the tricky SMD soldering without any problems, seemingly. The original note follows and I will put some photos and details from Paul up later today:
(Note to Brian - maybe time for another magazine article!)
DIY Level Controller – David Forrest, June 2010
OVERVIEW
This is quite a simple circuit really with few components. The main issue is the soldering of an SMD (Surface Mount Device) accelerometer chip.
The complete prototype unit does work nicely (See the video of my Charlie 2 class sub at high speed at ALFOLD on Facebook.)
The unit contains the following stages:
Accelerometer chip – produces a small voltage (~0.1 v) in response to tilting the device.
Amplifier (op-amp) to boost the level signal from 0.1v to about 0.5 to 4.5 volts.
PIC microprocessor combines the signal from the receiver with the level signal to give an output to the elevator servo.
+ a voltage regulator to give about 3v for the accel chip supply.
The PIC takes its reference voltage from the supply so it needs a fairly "clean" voltage from a BEC. (If the supply is noisy you can try capacitors, chokes and ferrite rings or all of them to clean it up.)
COSTS (I used Farnell for supply)
Accel chip £3.50
Voltage reg ~£1.50
Op amp ~£2
PIC pre-programmed from AMS £5
ALTERNATIVE COMPONENTS
You can get a nice breakout boarded accel chip on ebay for about £10. I haven't tried it but I enclose the data sheet. Useful if SMD devices are frightening.
The TLV2451 is one I had available but probably any good quality "rail to rail" op amp designed for battery supply would do.
Resistor values may need tweaking. To change the gain of the op amp change R6. If the output voltage stays at about 5v change the voltage divider resistors R2, R5. One or two variable resistors are a possibility.
Capacitors are mainly to decouple the chip supplies so keep them close to the chips.
I used stripboard (See photo)
MAIN CHALLENGES
Soldering the SMD accel chip. I stuck the chip on its back and wired it up with fine copper stands taken from screened cable. (See top LHS of photo – its small!)
Perhaps you could make up a little board and reflow it. If so how about selling some?
Do make sure that you connect the "sleep" pin 7 to +3v. That foxed me for a day or two and I had to retrieve the chip from the bin!
SUMMARY
A challenging project because of the SMD. I suggest that you get the front end (up to the PIC) working before you buy the PIC)
Let me know how you get on!
David
Partlist exported from C:/Users/David/Desktop/Level Controller/level.sch at 2/4/2011 9:55:46 AM
Part Value Device Package Description
ACCEL-PIN-1 LSP10 LSP10 LSP10 SOLDER PAD drill 1.0 mm, distributor Buerklin, 12H555
ACCEL-PIN-2 LSP10 LSP10 LSP10 SOLDER PAD drill 1.0 mm, distributor Buerklin, 12H555
ACCEL-PIN-6,7 LSP10 LSP10 LSP10 SOLDER PAD drill 1.0 mm, distributor Buerklin, 12H555
C1 0.1mF C5/2.5 C5B2.5 CAPACITOR
C2 0.1mF C5/2.5 C5B2.5 CAPACITOR
C3 0.1mF C5/2.5 C5B2.5 CAPACITOR
C4 0.1mF C5/2.5 C5B2.5 CAPACITOR
C5 0.1mF C5/2.5 C5B2.5 CAPACITOR
FROM-RECVR LSP10 LSP10 LSP10 SOLDER PAD drill 1.0 mm, distributor Buerklin, 12H555
IC1-TLV2451 DIL8 DIL08 Dual In Line / Socket
IC3-PIC12F675 DIL8 DIL08 Dual In Line / Socket
R1 1.75k R-EU_0309/10 0309/10 RESISTOR, European symbol
R2 62 R-EU_0309/10 0309/10 RESISTOR, European symbol
R3 1k R-EU_0309/10 0309/10 RESISTOR, European symbol
R4 4.7k R-EU_0309/10 0309/10 RESISTOR, European symbol
R5 62 R-EU_0309/10 0309/10 RESISTOR, European symbol
R6 200k R-EU_0309/10 0309/10 RESISTOR, European symbol
TO-ELEVATOR-SERVO LSP10 LSP10 LSP10 SOLDER PAD drill 1.0 mm, distributor Buerklin, 12H555
V-REG-3V LM317L 317L VOLTAGE REGULATOR
Last edited by david forrest on Fri Feb 04, 2011 10:25 am; edited 1 time in total (Reason for editing : better resolution on circuit diagram)